Doggie-licious Delights
Talula Eats Gourmet Doggie Treats!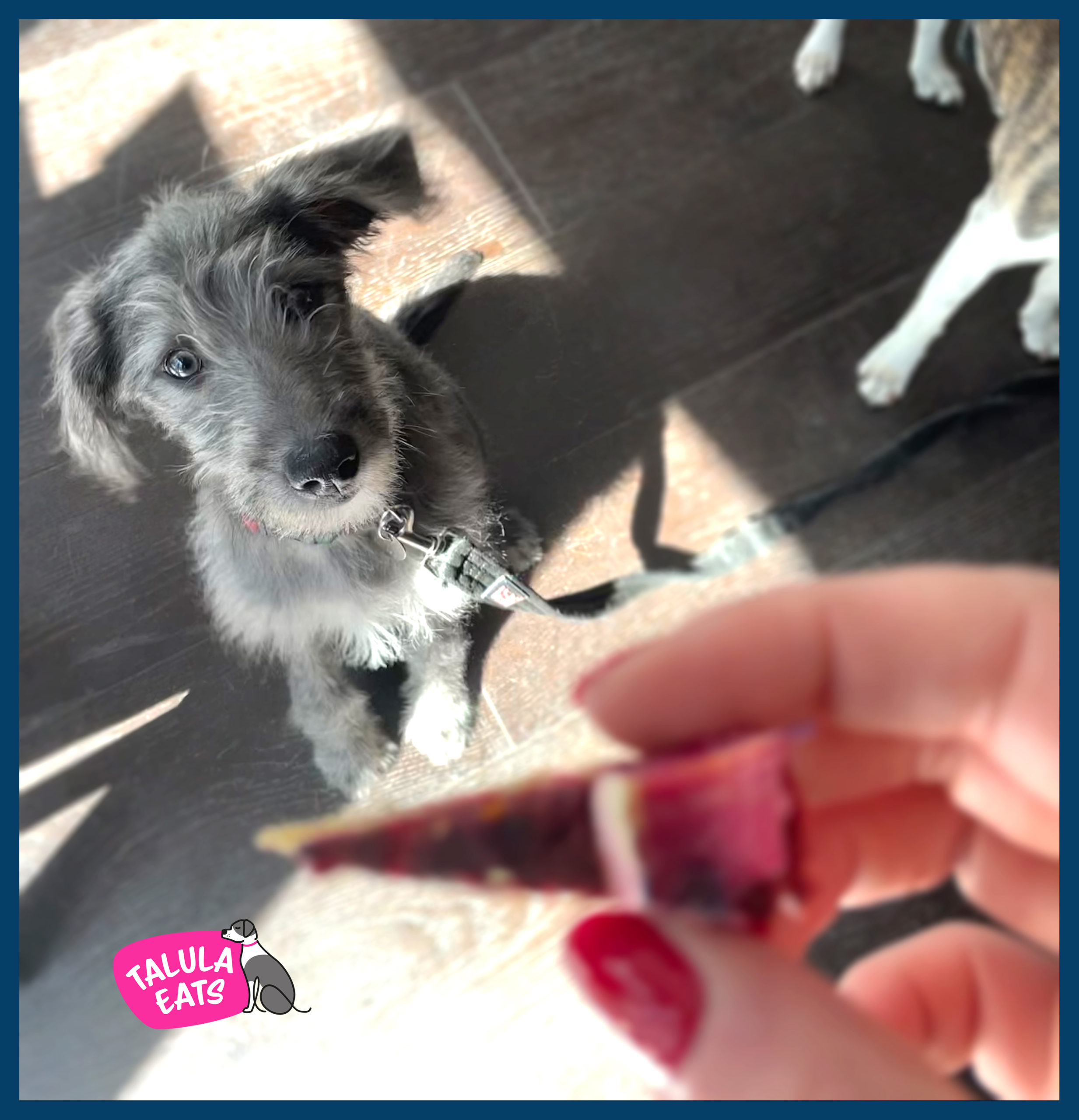 Who's been a good doggie? You all have! And we think you deserve treats.

Talula Eats wants to make this as easy as 123, so we've designed bespoke treats packages that are bound to have your doggie jump up and down!

Whether you and your hooman are working from home or have returned to office life, what better way to make the day special than to order a Talula Eats Treats variety package. And we have doggie pizza too! Just like our nutritious doggie food, our treats only use human-grade ingredients and have zero additives or added sugar. They are hand-crafted in our shop in Fitzrovia by our canine nutritionist Rupal who's constantly researching all things doggie nutrition.

All our treats are made with West London cricket powder from Horizon Insects- they aren't just an empty treat – they are a high-protein snack that is packed full of deliciously nutritious ingredients. Of course all our treats have their individual compositions, but let me tell you what those include: almond, coconut, spelt, brown rice, wheat and oat flour; coconut and olive oil; ginger and fresh herbs such as parsley, mint and basil; low sodium, low fat bacon; low fat cream cheese, goat's cheese and mozzarella; honey, 100% maple syrup, peanut butter; banana, strawberries, wild blueberries. You get the idea – all of our ingredients have their own nutritional benefits for your pooch, there's no fillers in Talula Eats.

Each treat is handmade and decorated by our canine nutritionist, lovingly packaged by her and her colleagues, and can either be picked up or delivered - give us a ring to see if you qualify for free delivery! They're also taste-tested by our 12-year old President Boston Terrier dame Talula and any of our friendly neighbourhood doggies (and sometimes by one of our colleagues, cause she wants to try everything..).
Yum
Paws Aloud Variety Box
Can I get an aaah-oooooooooh? Tasty bone treats as starters are bound to set your pooch up for what's to follow. Two slices of doggie pizza packed with nutritional goodness: the dough is made with a blend of oat flour, egg & cricket powder and its almond-basil or beetroot-pumpkin base is topped with a variety of goat's cheese, low-fat mozzarella, parsley or low-sodium bacon. Two dessert treats finish off the course - maybe a pupcake or a salmon(-oil) bagel, be surprised by our nutritionist. All our treats contain cricket powder to give that protein boost. There's no empty treats at Talula Eats.
What's Included?
2x Doggie Bone Treats
2x Doggie Pizza Slices
2x Doggie Dessert Treats
£20 Starting Price
Yum
Poochie Package Variety Box
Yes, you are reading this correctly. We have doggie Macarons! Our Poochie Package Variety Box comes with two treat bones and two slices of doggie pizza just like our Paws Aloud Box. But. Not only does your friend get two sugar-free, nutritional doggie Macarons, they can also choose between getting two dessert treats or getting a slice of our Doggie-Cake-Of-The-Day! (If you want a whole doggie cake to celebrate your doggie, please message us via the contact form!)
What's Included?
2x Doggie Bone Treats
2x Doggie Pizza Slices
2x Doggie Macarons
2x Doggie Dessert Treats OR 1x Doggie Cake Slice
£25 Starting Price
Delicious
La Doggie Vita Variety Box
Living La Doggie Vita, our ultimate variety box has deliciously nutritious treats for days! Two bone treats and FOUR slices of doggie pizza make for a couple of afternoon snacks (dependent on the size of your dog of course!). The Macarons will make that afternoon tea fancy and if there's still room for cake, why not get a slice? Choose between a slice of our Doggie-Cake-Of-The-Day or two dessert treats.
What's Included?
2x Doggie Bone Treats
4x Doggie Pizza Slices
2x Doggie Macarons
2x Doggie Dessert Treats OR 1x Doggie Cake Slice
£30 Starting Price
Delicious
The Bow-Wow Pack
Maybe today isn't a pizza kind of day and you really just want to focus on desserts. Of course none of our dessert treats contain sugar or chocolate (but we make sure they look sweet as can be!) and all ingredients used are nutritious for your dog! No empty treats at Talula Eats. If this picture doesn't make you jealous yet, why not head over to our Instagram account (link at bottom of page) to take a peek of what fun things our canine nutritionist comes up with?
£20 Starting Price
Delicious
Pumpkin Beetroot Doggie Pizza
As all our dog treats and dog food, our pizzas are made using only fresh, human-grade ingredients. The dough combines oat flour, egg and cricket powder which doesn't just give it that pizza look but also makes it incredibly nutritious with an extra protein kick! Our pumpkin and beetroot base is topped with goodies such as goat's cheese, low-sodium bacon and parsley. Pizza slices are a great, nutritious snack that is sure to get your dog's attention!
What's Included?
1x Doggie Pizza 10 or 12 inch
£15-18
Delicious
Almond Basil Doggie Pizza
Both our pizzas use an oat flour, egg, cricket powder dough! Our cricket powder comes from West London's Horizon Insects, so it isn't just sustainable, it is also super local. Our almond basil base not only smells delicious, it tastes delicious (if we may say so ourselves). Topped with a variety of goat's cheese, low-sodium bacon, parsley or mozzarella, you better not steal any from your pooch. Easily sliced up into treat-sized portions, it's a great delight for any doggie!
What's Included?
1x Doggie Pizza 10 or 12 inch
£15-18
Get in touch
Ask us Questions!
We'd love to hear from you.
What's Been Happening
The Story Continues...
We're Blogging
Need Something Else To Wag About?
Blog
Why Should My Dog Eat Fresh?
Fresh food provides nutrients in a different and more effective way than processed food. Want more information? Keep reading!
11/03/21